HCM and EmployeeTech are now one!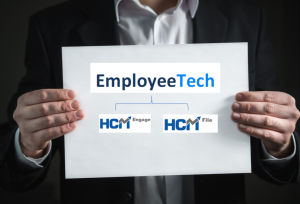 For the last five years we were a company of two brands; HealthCostManager (HCM) and EmployeeTech. This created confusion in the market from a brand identity standpoint. As of this week we happy to announce we have consolidated everything under the umbrella of EmployeeTech. Underneath that umbrella is our HR technology consulting services and two solutions: HCM File and HCM Engage. HCM Engage our latest application will be released in the Fall. Engage delivers fast and affordable engagement through a campaign builder technology. Included with the solution is a health plan decision support which will be a perfect supplement to your Open Enrollment Efforts. Stay tuned as we look to roll out Engage to the market sometime in the Fall.
If you are reading this article you are likely viewing it on our new website. While it's not necessary to send press releases on a website change (something that usually happens every 3-4 years) we thought this announcement is timely based on the consolidation of brands. We look forward to working with you as we continue to grow with our new product offerings.
---