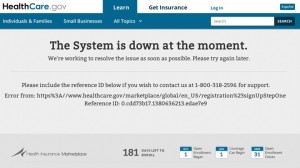 The ObamaCare Exchanges – The Cliff Note Version as of 11/5/13
It's been a rough series of weeks for the Federal Exchange (Healthcare.gov) and consequently ObamaCare as a whole. As of today Healthcare.gov, the website that runs most of the public exchanges is down. Recent events leave many of us asking the question "how did we get to this point?" There's certainly a lot to be concerned about as time is running out, especially for those needing coverage on 1/1/14. As a practitioner who helps employee benefit brokers build platform strategies for the post 2014 market I thought it would be helpful to frame out a concise historical perspective of the public exchanges as well as predict what we can expect for the future.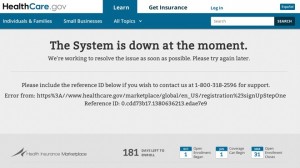 A Brief History
In a post inaugural 2009 a joint session in congress a newly elected President Obama requested a national health care plan with the primary objective of providing universal health care. The plan was modeled from Mitt Romney's plan for Massachusetts which was enacted in 2006. One of the core pieces of the Romney plan was a health insurance exchange called the Health Connector which enabled mostly uninsured individuals to purchase coverage. In November of 2009 the house passed the Affordable Care Act of America. The Senate followed up with their own version of the bill called Patient Protection and Affordable Care Act (PPACA or ACA) which is known today as ObamaCare. This bill was complicated and to date is comprised of 10,535 total pages. For the next three years PPACA was tested through a complicated legislative process, a Senate majority change (Scott Brown's election in Massachusetts), a reconciliation process, the Supreme Court upholding the Individual Mandate section of the bill (Chief Justice Roberts was the deciding vote), and a second term election for President Obama. Despite countless attempts to derail and defund ObamaCare, the bill survived and began its implementation in 2010. This first wave of legislation focused mostly on regulatory and tax issues but on October of 2013 the Exchange portion of the bill was introduced and made available to the general public.
The Creation of the Exchanges
Although millions of dollars (about $40 million per state) was spent to explore the possibility of a state based exchange, only 14 states and the District of Columbia have emerged with state specific exchanges. Some of these states, such as Massachusetts already had an exchange in place. The remaining states will currently be managed by a single entity; the Federally Facilitated Marketplace (FFM). The FFM is known by the website Healthcare.gov which supports 36 states. Healthcare.gov was a fallback position for states that either decided not to create an exchange following their exploratory stage or not participate in the process at all.
Mismanagement
Healthcare.gov from an IT project perspective is managed by Centers for Medicare and Medicaid (CMS) with several solutions consultants working on the project. The architecture for FFM is made up of a complex web that shares data from several sources and under the supervision of a dozen federal agencies. Due to red tape and mismanagement final specifications for the FFM were not submitted until early 2013. CGI Federal, the lead software vendor and several other contractors on the project didn't start writing code until the spring of 2013. For a project with this complexity and scale the timeline should have been a lot closer to two years.
Site Not Working
On October 1st 2013, the day of the roll out the public began to experience a long list of problems such as people unable to login, inaccurate data being shared, timeouts and a host of other critical IT issues. To further complicate things in September the Obama administration had decided to put the registration process in the beginning of the user experience followed by the health plan shopping. As a result, small subsets of individuals were able to enroll. Six people total enrolled in a health plan on day one according to the Washington Post. Several more have enrolled since then but a number of them were deemed to be Medicaid eligible. Despite looming deadlines the site was taken down in late October and most of November for repairs.
Fixing the problems
According to a November 4th article in Bloomberg News the Obama administration has identified a number of software flaws that led to the problems associated with Healthcare.gov. They also criticized CGI's handling of the work and named another software company to supervise their work. In a process referred to as "The Tech Surge", the administration pulled in engineers from Google, Oracle and other software firms to help get the website working smoothly by the end of the month.
The Future
Once the ObamaCare exchanges are fixed, individuals turned away due to technical glitches will be invited back. It is hard to predict whether the public will engage with Healthcare.gov. In many cases those individuals that qualify for the larger subsidies or have a pre-existing condition are the most likely to come back and enroll. The younger and healthier uninsured population will be faced with minimal penalties if they do not seek out coverage. And some consumers that previously purchased individual coverage may find the new rate and plan structures to be less enticing. Both of these groups are necessary in order to spread the risk. At the same time group plans will find it difficult to compete with exchanges especially if their employees earn lower incomes and have families.
Around late 2014 and into 2015 we will start to see many of these employers shift from traditional group health plans to Exchange options either for individuals or through the SHOP. Current experience has shown that this will not happen immediately. In anticipation of these shifts benefit advisors are licensing with CMS in order to become compensated for these plans. As they adapt their practice to these plans they will need tools to help their clients understand the implications of sponsoring plans for their entire population as well as the impact for each employee. Stay tuned.
---