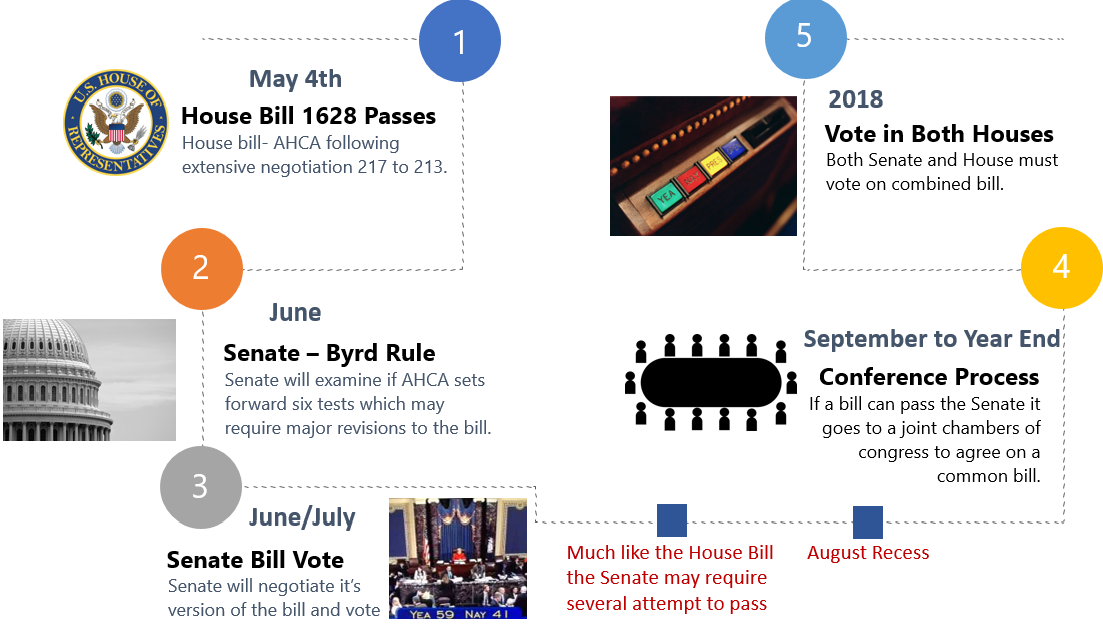 ACA Repeal Timeline and Process
The road to repeal and replacing The ACA is complicated and will take some time to be successful. The AHCA, the House ACA Repeal bill that passed in May has weak support by industry trade groups as well as low public opinion. Much of the concern centers on the elimination of Medicaid and Obamacare subsidies that is projected to increase the number of uninsured by as much as 24 million individuals. This estimated timeline is designed to provide a easy visual of what the next steps might look like. The complicated process combined with the gravity of its impact suggest the ultimate result may require a bi-partisan solution. Below are the steps for ACA repeal which are subject to change:
May 4th House bill passes – After cancelling the vote in March the House went through an extensive negotiation process to come up with a bill that could satisfy the conservative faction of the house. When it was discovered they still needed a handful of key moderates to participate, additional adjustments to the bill were made. In the end, the bill passes the House narrowly 217 to 213. It's important to note this bill passed on a weak foundation that will likely be disrupted as the bill travels to the Senate. The Senate is considered to be more moderate than the House and many have predicted significant re-writes.
Senate rules – The Senate Democrats are expected to raise points of order that do not meet the Byrd strict 6-rule test concerning the budgetary impact of the bill. The CBO report due out on May 22 will also factor into this assessment. If portions of the House bill do not satisfy the Byrd rule, major revisions to the bill will result.
Senate writes bill and votes – Based on the feedback during the Senate Rules process as well as a smaller committee, the Senate will craft a bill to be voted on. Meanwhile there are several discussions occurring within the Senate as well as alternate proposed bills being considered. It is doubtful that the committee can craft a bill that will stand a chance of passing. A broad negotiation possibly including Senate Democrats may be necessary in order to pass the bill.
Conference Process – The "conference" process goal is to reach common ground between the House and the Senate on future legislation. During this process, the two chambers resolve different versions of bills and look to get a common bill approved by both bodies. Assuming they can come together on a common piece of legislation, a compromised bill will be written to be voted on.
Vote in House and Senate – After the completion of the Conference process the revised bill goes back to both chambers for a vote. Under reconciliation rules (as before) a simple majority is required to pass. This revised bill must pass both chambers before the President can sign it into law.
---