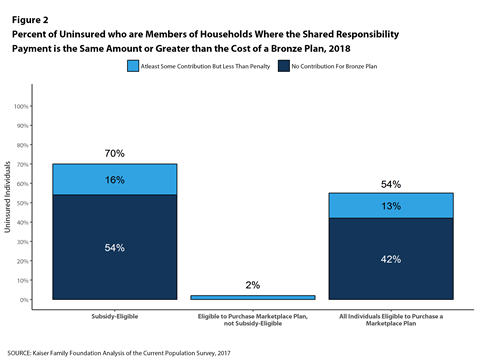 In Case You Missed It
Recent news of 600,000 sign ups into the Federal Health Exchange in the first week provides a small glimmer of hope for the ACA. Nothing more motivating then scarcity – think Black Friday for health insurance. However, the effort to maintain or grow enrollment for the 2018 is unlikely especially when the enrollment period has been cut in half, enrollers have been eliminated and HealthCare.gov is down on Sundays. Despite the focus on the post-election state of affairs, the real story regarding the uninsured population is not what has happened over the last year, but what has occurred over the last two enrollment cycles. Since 2015 we have not seen a significant reduction in the number of uninsured individuals across the US and that number has held steady at around 10% of the population. For tax years 2015 and 2016
The underlying premise is we need an infusion of healthy uninsured individuals to spread the risk and sustain cost. And, the goal of the ACA was to mostly eliminate our uninsured population so this 10% remains a thorn in the side of the legislation. Why has this elusive group of uninsured not selected a plan on the Federal Exchange and Why do they do this despite being required to pay penalties (2.5% or$695 per individual and up to $2085 for a family)?
If the penalties were significantly less than their overall cost of insurance that would be one story, but as it stands that is not the case. According to a recently published article by Kaiser Family Foundation entitled "How Many of the Uninsured Can Purchase a Marketplace Plan for Less Than Their Shared Responsibility Penalty, most (about 70%) of individuals are getting the short end of the stick when it comes to bowing out of coverage. And 54% of uninsured individuals who are eligible to purchase a marketplace plan with or without a subsidy would better off financially if they purchased a bronze plan rather than remaining uninsured. Meaning the penalty is higher than the cost of coverage – so you are getting the coverage for free.
History has shown that tax policy normally shapes behavior. We would be hard-pressed to point to any piece of tax legislation where a clear majority of our population has opted for the penalty if it doesn't work in their favor. The likely answer ties back to inability to engage this population and their lack of understanding on how the math works in their favor. If ACA remains in place for the next several years, we should make a conscious effort to better communicate the financial benefits of enrolling on an exchange. These efforts will pay off in many ways including stabilizing cost for the individual health market as a whole as well as the small group market.
---